Housing market economists expected the market to change this year. But, it's changing more than many expected at the start of 2022.
Inflation and mortgage rates both spiked faster than most experts predicted. Inflation reached a 9.1% hike in June and mortgage rates are well over 5%. With these drastic changes, economists are revising some of their forecasts for the second half of 2022. We break them down below.
INVENTORY
Realtor.com issued a mid-year forecast to align with the shifts that occurred in the first half of 2022. One of the most significant revisions made to its 2022 forecast was in the number of homes listed for sale. Its inventory projections increased from a 0.3% increase to 15% increase by the end of 2022.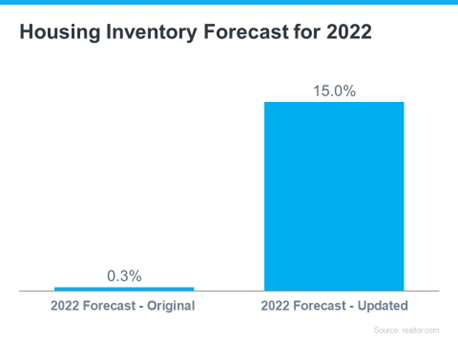 "The biggest bright spot for home shoppers is that we expect to see more homes available for sale. We originally forecast…a very small uptick in inventory. We're now expecting 15% growth in the number of homes available for sale." Danielle Hale, Chief Economist, realtor.com
While this does bring relief to home buyers, total inventory is still lower than pre-pandemic levels. So, while there will be more options coming to the market, you will still need to help buyers move quickly and make strong offers.
HOME SALES
While inventory is expected to increase, the number of home sales is expected to slow down.
Fannie Mae also issued an updated 2022 forecast, lowering its projection for home sales, with increased mortgage rates being the main factor. It expects total home sales to decrease 13.5% to 5.96 million units sold. This is a shift from the projection Fannie Mae made in May, which was an 11.1% decline in home sales.
Realtor.com also expects home sales to slow, though not as much as Fannie Mae. Economists at realtor.com expect a 6.7% decline in home sales, which is a slight shift from their original projection of 6.6%.
Keep in mind that even with fewer home sales, a 6.7% decline (as projected by realtor.com) would keep the total number of home sales at the second highest number since 2007, second only to home sales in 2021. In short – there are still plenty of homes to be sold.
HOME PRICES
When buyers hear there will be more inventory and fewer home sales, they immediately think home prices will start to come down. But, that's not what is expected.
Economists expect that home prices will continue to rise due to high buyer demand. Home appreciation is expected to slow when compared to 2020 and 2021, but most economists forecast appreciation in 2022 to land between 8-10%.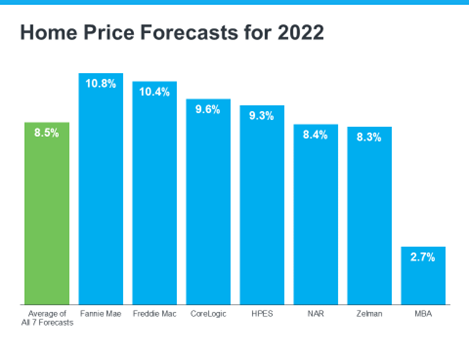 While experts predict the market will continue to calm for the second half of 2022, sellers will be happy to hear that the value of their homes is not going to plummet.
Source: BAM Staff – July 14, 2022